Macro-Project Management
Inspiration for our landscape creations, which seamlessly integrate architecture and nature, comes from our majestic Rocky Mountains. Our goal is to give tangible form to your dreams. A luxury landscape must both express the personality of the homeowner as well as support the character of the architecture with a custom design that is both functional and beautiful. We encourage you to follow the tradition of the West which has always been to "dream big."
Hardscape, or the adding of manmade structures such as patios, retaining walls, fire pits, built-in grills, and lighting to your landscape, is a fine art. These structures must be carefully engineered to complement the aesthetic of the existing architecture and landscape. Ultimately, they should also enhance your lifestyle and provide more opportunities for getting outside and enjoying activities under the Big Sky.


Micro-Project Management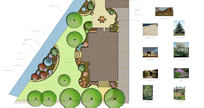 Our proven design process relies on mutual collaboration. It is your dream, combined with the creative vision of our master craftsmen that allows us to provide you with an exceptional design which is both functional and beautiful.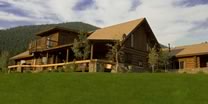 This comprehensive phase of our work together will include design approval, cost studies, and addressing any permitting issues. We will also define the scope or the project, as well as the phasing, scheduling, coordination, selection of materials, construction methods, and cost estimates.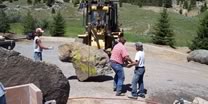 We will work as your general contractor, overseeing the entire project installation, including landscape and hardscape. Our experience is critical in ensuring proper installation of plant materials, as well, as irrigation, drainage, and lighting. Many homeowners overlook the importance of protecting mature trees, for example, by ensuring proper grading and soil preparation.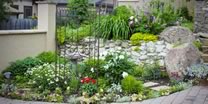 One of the most important considerations in your design is landscape maintenance. Once you have invested in your outdoor environment, you will want to maintain it so that it continues to mature and add value over time.
Service Area
Based out of Harrison, Montana, Wagner & Co. Master Landscapers services the following Montana communities: Bozeman, Big Sky, Ennis, Dillon, Townsend, Boulder, Anaconda, Butte, Philipsburg and Whitehall. If you live outside of these locations and are interested in our services, please give us a call and we'll consider your project depending on the scope and our availability.